Faye and Filly
Acrylic/enamel on board | 11" x 9" | $375
The coats of the Appaloosa mare and filly calls to attention a base color overlayed by spots. Spanish explorers introduced these striking horses into Mexico during the 1500s. Spreading to the far northwest of North America, appaloosas were prized by the Nez Perce tribe. My spotted intrigue resulted in general sketches followed by a creative leap to vibrant dabs of color on mare and foal. Illuminated horses quietly pose against an enameled black sky.
Lucky Horse Show
Acrylic/horse hair | 5" x 7" | SOLD
The textured feel and graded color of horse hair makes a call in this acrylic painting. A horse's mane was cut, washed, combed and inserted in a graded color pattern into plywood with predesigned drilled holes. This miniature painting was part of a display and to wish me well in the show, a lucky horseshoe was painted with acrylics. Someone purchased the piece, and I also wish him the best of luck.
Roma
Acrylic and beadwork on canvas | 29" x 24" | $5,400
The Arabian horse breed dates back 4,500 years to Middle East origins. Bedouins enhanced composition and movement of their Arabian horses by use of saddlery adorned with colorful fabric, beads, and metals. This painting depicts an Arab's gentle head tuck that contrasts to brightly adorned gear. Saddlery colors repeat in a background with spontaneous acrylic washes and delicately hand beaded medallions. The orchestration of multimedia shapes and color achieve embodiment of this royal Arabian horse.
The Horse—Evolutionary Tracks
Acrylic, horse hair, and modeling paste | 38" Diameter | Private Collection
The 50 million-year evolution of the horse transitioned from the dog-sized forest dweller Eohippus to our modern horse Equus. The animals overall size increased as five padded feet merged into a single hoof. To-scale imprints in this collage detail are evolving horse tracks carved in modeling paste. Mesohippus (shown in fossil form in this artwork) browsed in the Badlands SD about 30 million years ago. The circular boundary of tracks is host to a color graded horse hair swag.
Running Braid
Acrylic/horse hair on board | 5" x 7" | SOLD
Horse mane braiding dates back hundreds of years and is a common practice used by horse owners to increase beauty and prestige. While braiding my horse's mane, a mental image teased into an art piece — rhythmic movement and textural intrigue braid through strokes of warm quietude and cool serenity.
Khadraj's Kingdom
Acrylic on canvas | 40" x 38" | $3,200
Khadraj is a nationally renowned Arabian stallion with strong lineage in the equine world. His resolute pose and intent gaze, as well as a richly sunlit sky, create a striking contrast to the fluid movement of horses and trailing dust on the horizon. "Khadraj's Kingdom" was created by applying acrylic paint in a heavy base overlain with transparent colors. Contrasting values dramatically reveal the form and muscle tone of the horses and release a sense of light filtered on landscape grasses.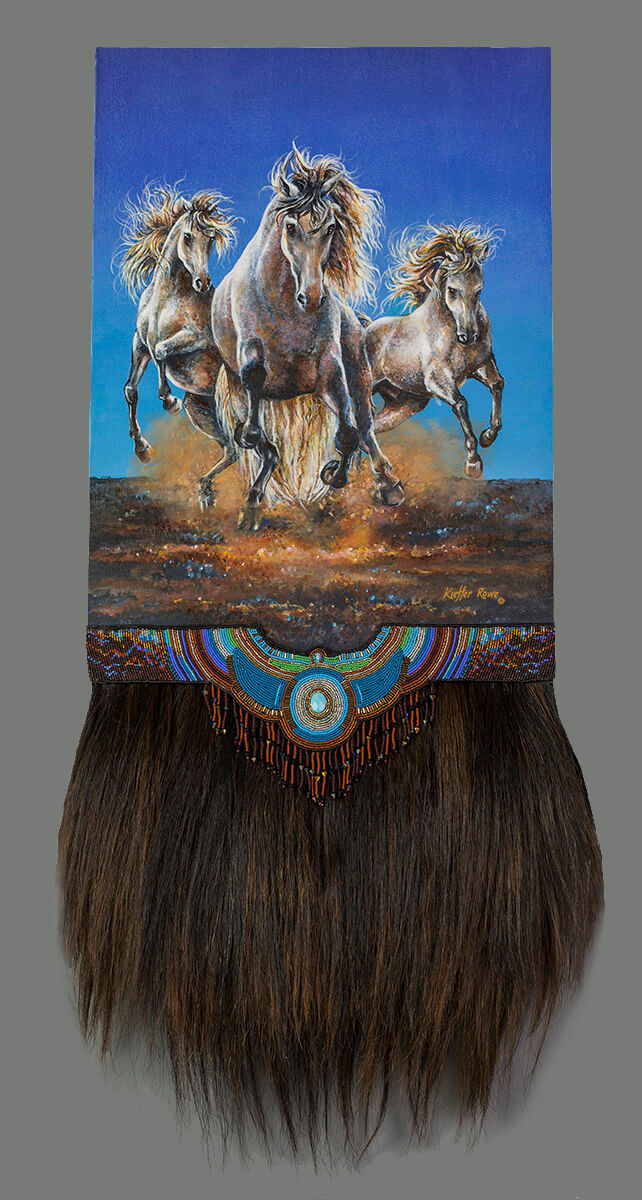 Slicing Moonlight
Acrylic/beadwork/hair | 16" x 20" | $5,500
Arabian horses are acclaimed for their power and visual elegance. This piece celebrates the force and intensity of the horse by uniquely combining acrylic paint, beadwork, and horsehair. Backlit arching necks and flaring manes fly in concert with drumming hooves. A hand beaded horizontal band mirrors the pattern of sky and earth and introduces a cascade of horse hair. The combined segments convey a dramatic view of moonlit movement.
Rums
Acrylic on board | 7" x 5" | SOLD
Rums, an integral part of my family, seldom wears the gentle-eyed profile portrayed in this painting. As a spirited cattle cutter, her quickness and agility are on display as she free-runs on the wild side with dodges, bucks, and turns. In this painting, Rums is captured with warm and cool acrylics that are stationed in a background of black enamel. To me, the painting is fun yet fictional — Rums seldom stands still!
Mariska
Acrylic on board | 8" x 9" | $475
Mariska, a young Arabian filly, is bright and spunky and was most definitely an artist's challenge to paint. The flaring Medusa-like mane frames bight eyes, flaring nostrils and a dipped facial profile. Deep sorrel hair and flaxen mane flash highlights that showcase a star. This painting attempts to capture Mariska's spirit of freedom. I was immersed in the moment that we shared — she then ran off.